Wikipedia says that the Book of Shadows is a book containing religious texts and instructions for rituals for the Wiccan religion. Well, that is so, but my Book of Shadows is a little more. It's also sort of a magickal journal that I keep track of spells performed, spells I would like to perform, as well as some documentation of sabbat celebrations.
I currently and have always, used journals, however, they are becoming a mess. So I recently started to consider scrapbooking my BOS. It seems like a wonderful idea, I can save memories, document spells as well as include in the book any ribbons, or flowers used in the spell.
Great site that has some nice seasonal papers.
MY BOS
I have been hard at work on my new BOS. Look for pics coming soon. With this time of year, I have found plenty of embellishments for fall sabbats as well as spells. Dont forget to look in the scrapbooking clearance bins for stuff you might use later. I found some things for spring this way. My BOS is quickly becoming part spell book, part journal, a place to document sabbat traditions as well as a personal scrapbook. (For things and events that pertain of course!). I am really loving it, now I have one book instead of many. The three ring binder is working well and I even found page protectors in the office supplies that are open on top, so if I want to add or change something, no problem! Good luck with your endeavors and Goddess bless!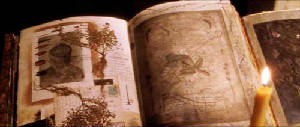 Okay, so a really cool looking creation of course came to my mind when I was brainstorming this idea. We all want a really cool grimoire like the one in the movie, Practical Magic. Scrapbooking seems to afford us this luxury. We are only limited by our creativity. I suggest that you do some research on basic scrapbooking first. You want to be careful so that your creations are preserved for a very long time.
Im planning on using a three ring binder because page protectors are available and it allows you to move things around. I can also customize the look of the binder. There are many options that will work for a BOS. A good pen is of course a must and it must be acid-free to stand the test of time.
Some folks out there say that there aren't enough Wiccan embelishments. But, creativity prevails here as well. What is more Wiccan than a sun, moon, stars, trees, animals, etc. You can see where I am going with this, symbols of our faith exist everywhere, so using these things when they are relevant to the particular spell or sabbat that you are working on is perfectly fine.
You can also include pictures of your altar, or even your own drawings. These things put a personal element into your BOS, which is exactly what we are going for.
I have included some links to help you out. I would love to see some pics of what you create. I will be posting some soon as well. Good luck and blessed be!